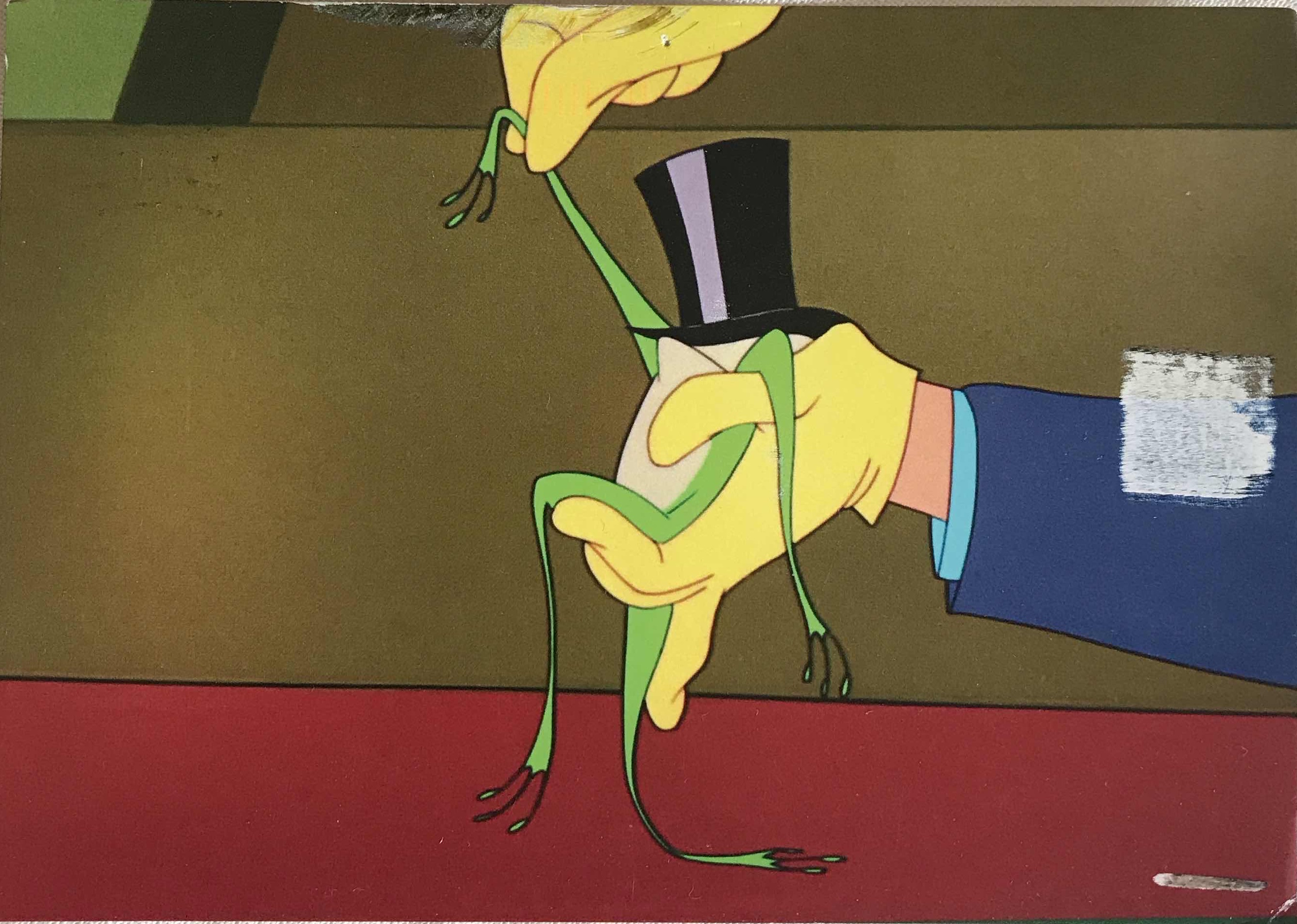 Postcard for Domingo Castillo's exhibition "New Acquisition," 2019 (Still from "One Froggy Evening," 1955)
Goyanes photo
by OK Mccausland
---
I'm a writer and editor whose work includes nonfiction, fiction, communications, and copywriting. My writing has appeared in Art in America, BOMB, e-flux journal, the Los Angeles Times, the Miami Herald, and many other places. Editing clients include book publishers, magazines, museums, art galleries, scholars, music labels, and writers. From development to proofreading, I provide cradle-to-grave editing across a variety of genres. I also teach a private, one-on-one prose workshop.

My communications and copywriting experience is mostly in the culture, travel, and hospitality spaces. With five years experience as a strategist and data analyst at an advertising agency and technology company, I know how to develop creative content and build brands from rigorous research. I'm from Miami, Florida, lived in New York for seven years, and currently reside in Los Angeles, California.

Feel free to reach out with inquiries and sweet notes.

---
Contact:
robgoyanes@gmail.com
---
Some press:
"A Peek Behind the Bloodstained Curtains of the Blacklips Performance Cult," The New York Times Magazine, 2023

Paper Trail
, Bookforum, 2021
"Aesthetics and Politics at the New Museum Triennial," The New Yorker, 2018
SELECTED
---
Fiction
2022.
"Dying Letter," Emerson Dorsch
2022. "WHERE JURISDICTION CHANGES," enmossed
2020. "Hourglass," The Quarterless Review
2018. "Dale's Fever," Contemporary Art Stavanger (
part 1
/
part 2
)
2018. "The Broken Wand,"
Downtown Paintings
, RUINS Press
Nonfiction
2023. "Gala Porras-Kim wants to know: 'Can a museum be a cemetery? Or a Crate & Barrel?'" Los Angeles Times
2023. "Sak pase? N'ap boule: Viktor El-Saieh's TIM-TIM," Burnaway
2023. "Peggy Levison Nolan's Florida," Burnaway
2022. "Double Fantasy," CREEM
2022.
"Chupacabras in Miami," Islandia/Bookleggers
2022.
"The Housing Crisis is Ruining the Future of Music," CREEM
2022. "Love Language" (
part
1
,
2
, and
3
), Cultured
2022. "The Sequence Doesn't Matter: Faith Ringgold at New Museum," Spike Art Magazine
2021. "Suddenly an Archive," Burnaway
2
021. Garret Bradley, Cultured
2020. "'There's a Real Climate of Fear': Students and Former Staff Speak Out About the Frank Lloyd Wright Foundation's CEO," Artnet
2020. "Seduce and Destroy: Hannah Levy's Dangerous-Looking Sculptures," Art in America
2019. Brian Evenson interview, BOMB
2019. "The Ecological War on Gaza," Jewish Currents
2019. "Elaine Khan's Romance or The End," BOMB
2018. "Last Resort," Affidavit
2018. "How a Russian Librarian Aimed to Cheat Death," GARAGE
2017. "I Won't Fear My Passions Like a Coward," Los Angeles Review of Books
2017. "A Palace of Unsaids," e-flux journal
2016. "An archive reveals the personal and political realities of Iraqi Jews, but mysteries remain," The Miami Herald
2015. "Asif Farooq's Paper Plane," Interview
Editing
2023. Art Basel Stories (copyeditor)
2023. Blacklips: Her Life and Her Many, Many Deaths, ANOHNI and Marti Wilkerson, Anthology Editions (assistant editor)
2023. Escape from the Great American Novel, Drew Lerman, Radiator Comics (copyeditor)
2022.
News, Sports, and Weather: Televisual Tactics in Black Art, 1973-1994
, Northwestern University PhD dissertation, Grace Deveney (editor)
2022.
Cultured
magazine, April/May issue (senior editor)
2021. "Shannon Cartier Lucy and a Web of Uncertainty," Hassla Books (copyeditor)
2021. "Complimenting Speech Acts: A Cross-Linguistic Approach," Eötvös Loránd University PhD dissertation, Dubravka Kubatov (proofreader)
2017 - 2021.
American Way
magazine (copyeditor)
2021.
Cultured
magazine, winter issue (copyeditor)
2018.
Intertidal
exhibition catalogue, Oolite Arts (copyeditor)
2016. Patricia and Phillip Frost Museum of Science (website proofreader)
Grants & awards
2021. City Artist Corps Grant, New York Foundation for the Arts
2017. Art Writing Workshop, IACA/Creative Capital/Andy Warhol Foundation
2017. Public Space Challenge, Miami Foundation (Miami Music Club)
2017. Bas Fisher Invitational, Open Call for Projects (Miami Music Club)
2017. Mastermind Award, Miami New Times (Miami Music Club)
2016. Knight Arts Challenge, John S. and James L. Knight Foundation, (Miami Music Club)
2013. Community Supported Art Program, Cannonball
2012. Miami Writer's Prize, Artlurker
Residencies, teaching
2019. Key West Literary Seminar, writer-in-residence
2018. Contemporary Art Stavanger, Residency in Art Writing, Stavanger, Norway
2017. Crypta747 Residency, shortlisted, Torino, Italy
2016. ICA, Miami: Residents (Miami Music Club)
2015. Writer in Residence, Meta-Gallery at Locust Projects, Miami
2014. Teacher in Residence, MOCA, North Miami
2013. Writer in residence, General Practice, Miami